I've sat down 3 different times today to write a serious, inspiring blog entry – that you can learn more about the entrepreneurial side of me. However, I keep getting sidetracked.
It's summer and I keep imagining what you're all doing for fun. Where are YOU going/have gone on vacation? How are YOU taking advantage of the beautiful summer weather? Please comment – I want to hear about YOU!!
Warning – no negativity allowed – only positive thoughts. He he…if you live in the deep south of the USA where it is 105F – please don't think us Canadians are feeling sorry for you ;) Just joking – most of us would trade locations with you any day. If you don't have vacation time OR your checking account isn't overflowing with spending money – tell us about the daycations & staycations you're enjoying. I know you're creative and making the most of any opportunity life is providing you. Tanning on your deck, golfing, hanging out friends, whatever!
On the weekend – John & I had a fun date after church. We had a bit of time before going to watch a friend's son play soccer. John was craving a taco and the only tex-mex fast food place was on the other end of town. SO we settled for the Original Joe's patio for nachos! You might think we sound like an oxymoron – Christians enjoying a cocktail on a Sunday after church. However, we just like to have fun socially and enjoy taking advantage of our couple months of nice weather. Who am I kidding, trying to defend being Canadian ;)
When our cold drinks came out – we giggled. Depending on the day or our mood – John and I could easily interchange our beverages – just like a lot of things. Did you know that John & I don't have particular sides of the bed we sleep on? Or one more common, we don't have assigned seating at our table.
This time – which drink do you think is mine & which one is John's?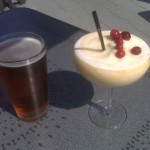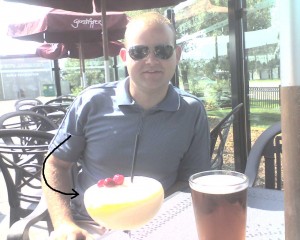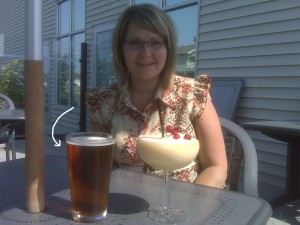 Don't forget – I would LOVE to hear about the highlights of your summer thus far please!! Comment away… even those of you that are virgins at making on comments on this blog – but are so amazing at visiting and revisiting my blog. Thank you for your support. I'd really love to read your comment…