My all time FAVORITE breakfast is Eggs Benedict.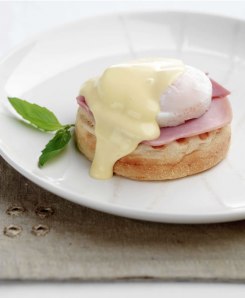 When I first met my sweetie – I wasn't sure how we were going to function since he didn't "prefer" eggs other than in breads or desserts. He also does NOT eat fish/seafood – so he hadn't ever tried Hollandaise Sauce either. SO you can see why I was concerned when my partners noise curled at the two main ingredients of my favorite breakfast. I'm quite sure that the first 2 years of our relationship, I only enjoyed this rich, truly divine breakfast dish a couple times.
My fantastic Mom spoils me and nearly every visit, she makes my favorite. John is extremely open and freely expresses his opinion. He started by asking to "hold" the egg – he he… (he does this at McDonald's too when ordering a Sausage Egg McMuffin – ha ha – laughing with not at! I always enjoy the look the order taker gives ). I can always tell John looks forward to Ronda's breakfast when we're both having a sleepover at my parents – right – as it's usually Eggs Bennie. (Yes, John goes to visit my parents on his own – he's phenomenal. This special topic deserves its own entry one day!)
Anyhoo…John has grown, oh – not a good word choice when referring to food and what happens to one's waist when you're married. My honey has conformed and started eating eggs. I'm quite sure that there must have been an article in the Men's Health magazine about the benefits of eating this food product. (If you're married – I trust you're aware that men consider this publication almost as recognized as the Bible. One day – I'm going to make a friend that writes for Men's Health and ask them to write an article about spoiling their partner. I promise – John quotes things he's read from that magazine every week. Ugh…its amazing how this single monthly publication has so much influence! Whatever Men's Health reports – must be correct!)
Back to my story! I'm convinced that eating eggs was wrote about in an issue of the magazine, since honestly, John's decision to start consuming eggs literally changed overnight!
The real reason I was so keen to write about Eggs Benedict today, was because I came across this AMAZING blog entry Homemade English Muffins on Pinch My Salt. I honestly, don't think I've ever imagined making this particular item. However, I'm surprised that I hadn't – since its the base of my favorite breakfast! I am completely fascinated by how you make them on the griddle and all. When I get a chance to make these creations – I'll be sure to write about my experience.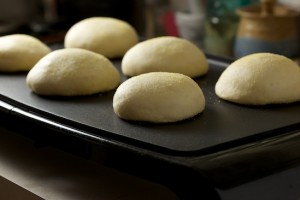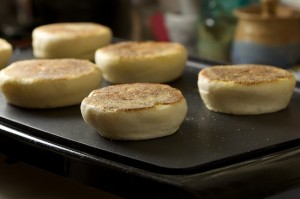 Pictures from PinchMySalt.com

Until then…I'm wishin, hopin, and prayin that my Mom will add Eggs Benedict to the breakfast menu at the ranch on the weekend. I'm going up for the weekend to snuggle and oogle over my nephew Sloan…oh and attend my cousin Jeremy's wedding!
What is your favorite breakfast food?