My passion is to inspire you to be creative with your Mother's Day celebrations. With a 15 month old son, I still put myself in the "new mom" category!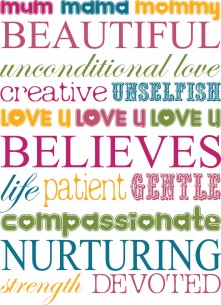 Are you ready to recognize the special women in your life? Yes – YOU! We all have mothers – whether they are still on Earth or not. However, many of us usually overlook the other incredible mothers in our lives – our sisters, friends, coworkers and role models!
Men – I hope you're paying attention too!
No matter how much or little the gift or experience costs, surprise and delight as many special "moms" in your life with your authentic self. Get in touch with your creative side. Wrap it up in something unique like a piece of newspaper, or make a gorgeous bow out of things you find around your house! As a rural girl, I've been known to use baler twine. I trust you've discovered or heard of http://pinterest.com and also get inspiration from the amazing images on the website.
The six gifts I'd love to receive and I'm convinced most new moms would also are…
1) MOMMY hours!
A guilt free escape for Mom! As a new mom and mompreneur, when I get the opportunity to escape for some "me" time, I am ecstatic! I always come back from a couple hours or days away feeling refreshed, reenergized and with the ability to be a more amazing Mom.
Surprise and Delight Detail: Consider adding a gift card, but not just for anywhere! I want you to do some research – what a concept. Be a listener and find out where they love to go and fill up their cup. Personally, two of my happy places are Starbucks and Edo Japan (a Canadian fast food Japanese Teppan-style experience). I love my own mom to pieces; however, her standard gift card is for The Keg or a movie theatre. I'm grateful for both; however, a more personalized destination would be fun!
Amazing Dare: Tuck $5 or $10 in your pocket. Do twice the listening the next couple weeks. With your two ears, find out where a mom in your life would love to escape to and surprise her!
2) Experience
As a mom of a 15 month old, I'm working hard to get "hotter and thinner!" One of my personal goals is to complete a ½ Marathon. The first step for me is getting into post-winter shape and completing 5K and 10K runs. I would be tickled pink if my husband treated me with the registration fee for an upcoming race, such as the SportChek Mother's Day Run & Walk 2012. Even a new running accessory that supports my goal (e.g., new gear like a top, bottoms, shoes, etc.) would be thoughtful. My husband reminds me often of something he read: couples that exercise together are more intimate! Just saying…
Surprise and Delight Detail:Get creative with how you wrap up your experience gift by coordinating with the experience. For example, a running/walking theme could be wrapped up in a shoe lace or wrapped in motivating images and phrases that correlate with completing a goal.
Amazing Dare: Find out what item/thing/goal is on Mom's dream/vision/life board! Use this new found knowledge to create an experience gift that supports or even achieves this dream board item.
3) Invest in Yourself
My car is my new self-help university! As I drive down the road to doctor appointments and play dates, I listen to self-help, business and inspirational audio books. Fictional books are lovely, but I prefer non-fiction, kick me in the butt books that make me a more amazing mom, wife, friend and mompreneur.
Surprise and Delight Detail: Give her an Amazing Experience Card to visit the library or a local bookstore as a family! Even more exciting – pay for her to attend a Women's Day event in your area or to attend a workshop/conference/seminar.
Amazing Dare: Find out what authors or books Mom enjoys or ask her friends for ideas.
4) Lingerie
Yes, you read correctly! I realize Valentine's Day has past, but read on! As a new mom, I was ecstatic when my husband steered me into Victoria Secret's a couple weeks ago. The infamous images of the "angels" caught his attention. You know which pictures I'm talking about – the knockout models sporting gorgeous lingerie. He subtly pointed to a bra that he wanted me to try on! I was flattered and felt very attractive. As a new mom, I haven't spent as much on myself the past year. This new piece of lingerie had the wow factor and I started wearing it that day – why wait? Life is worth living – right now! Gentleman, the best part of this experience was that I got to share it with my partner. Quality time happens to be one of my top love languages. Plus, it was a surprise and every woman loves a surprise!
Surprise and Delight Detail: Wrap up an Amazing Experience Card – stating that this special "mother" receives one special trip or gift card to the lingerie store of her choice! Side note: Lingerie shopping is like picking a new bathing suit for women – it's personal and can really stress us out! Instead of just "assuming" the size a woman wears – bless her with a gift card!
Amazing Dare: Men, step out of your comfort zone and be spontaneous! Women, you can also gift this idea to your sisters and girlfriends.
5) Card – a hand written, possibly even handmade card!
In my opinion, a Mother's Day gift can cost you nothing but your time. Tread water with this one and ensure you know what each "mom" expects or what her love language is! I highly suggest you read The 5 Love Languages by Gary Chapman or learn about your love language at http://www.5lovelanguages.com.
Surprise and Delight Detail: Make a card! My son received three cool infant paint containers for his first birthday. My creative husband took a blank piece of white copy paper and made a Valentine's card for me with the help of my son. Find a fun tool to draw or write with in your home or office!
Amazing Dare: Write a card to someone you typically haven't recognized on Mother's Day – your best friend, a woman you look up to, or even a more experienced lady that has influenced you.
6) Sunday Brunch

This tends to be a standard outing for Mother's Day in my opinion. However, have you considered trying out a new place? I recently attended a weekend long retreat at the Nakoda Lodge just west of Cochrane, AB. The Sunday Brunch was incredibly tasty and a fabulous experience. The pristine backdrop was breathtaking, plus the live drumming and dancing by the local First Nations members was a treat!
Surprise and Delight Detail: Leave clues the days leading up to Mother's Day about where you're going to go on May 13th! Example clues: It's a gorgeous drive; it's in the mountains; we'll be leaving at ___am; we're stopping for your favourite coffee on route; etc.
Amazing Dare: Make Sunday Brunch! Even more creative – have her go on a little scavenger hunt either by foot or vehicle. When she returns, have all the supplies out, ready to make your own omelettes or waffles with all the toppings as a family!
Gifts tend to last as long as you can remember what you received – experiences create memories and last a lifetime! I hope you take at least one of my dares and add your personal Surprise and Delight flare to your Mother's Day gift.
Robyn Beazley is an Enthusiasm Expert from Alberta, Canada and the author of Live an Amazing Life. As a mompreneur, she also shares her passion for life as a motivational speaker, coach and consultant! Connect with her at www.robynbeazley.com.
If you would like to share this article, please contact robyn@robynbeazley.com for permission and include the paragraph with my bio and website when posting.