Chef Beazley (my nickname for my husband John) is always so creative at making a fantastic meal from the crazy items in our fridge and cupboards! I've been wanting to start a series called something like "What's In The Kitchen?" for a long time.
As John and I enjoyed preparing our dinner tonight, I decided to put the video camera on my digital camera to use!
This episode of What's In The Kitchen? is inspired by:
A pot of cooked beans!
Before my husband went away for work a couple days ago, he slow cooked a pot of pinto beans. Then…they were moved to the fridge and have been waiting to be refried. I was tired of looking at them AND the bacon grease that was left in the pan on the stove BECA– USE I was dreaming about the most incredible refried beans that Chef Beazley made a few weeks ago. He got the recipe from the Homesick Texan blog! I proposed we make a TexMex meal and recreate the amazing beans (that's almost an oxymoron – amazing & beans in the same sentence – but seriously they are fantastic!).
Success…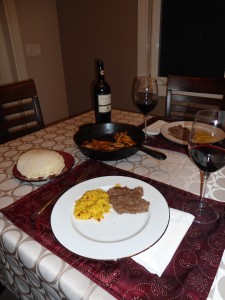 Have an amazing week!
Live Inspired,
{sig}