…I'll have a floating home like this…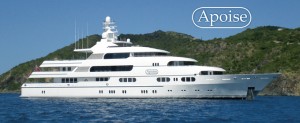 Can you imagine? We can ;)
The Apoise (means balanced) is an unbelievable yacht, owned by Dave Ritchie, co-founder of Ritchie Bros Auctioneers.
Upon retiring, Dave purchased Apoise, a 220-ft luxury Lürssen motoryacht, with the intention of sailing the world with Gloria for two years, and then selling the yacht at a Ritchie Bros. auction. Dave enjoyed Apoise so much that two years became four; in that time, they traveled all over the world – from Alaska to Australia, the Mediterranean to the Caribbean" – quote from http://www.rbauction.com/theapoise/about-dave.jsp
Since John has worked for Ritchie Bros Auctioneersthe past three and a half years, he's had the opportunity to meet and spend time with Dave Ritchie a few times. Although he's never had the chance to see the Apoise in person – he has learned lots about it.
This gorgeous yacht is for sale! It's going to be sold – unreserved (the Ritchie Bros way) on March 30, 2010 in the Grand Cayman. Check out more pics and lots of details HERE.
I watched the Apoise sell online at rbauction.com. The auctioneer (a coworker of John's & friend of ours – Greg) did an outstanding job, digging away for as much money as he could, and it sold for €34,750,000 (Euros!).

Dreaming of the yacht we'll own one day – think I'll call her "Amazing"!
Live Inspired,
Robyn