We just got back from seeing the Olympic torch in southern Alberta!! I forgot that it was going through our town today and when I realized it – we still had time to get into Lethbridge to see it. We spontaneously jumped in the car and chased down the torch on the route (John just loves when I do this – he he)!
I had tears in my eyes – I was so proud! He he…I cry for all occasions – happiness, sad – you name it – it comes very naturally for me, it's genetic. I believe today it was a combination of – I may never seen something like it again – in Alberta OR my lifetime (never know what the future holds) AND that the Olympics are back on our homeland!
I recently learned from my American husband – that no Canadian has ever won a Gold medal while the Olympics have been in Canada. I haven't researched the validity of this statement – but since he's a pretty smart and resourceful guy – I just hope that Canada can break that record this year!
I'm really happy that we got to witness the running of the torch through our community.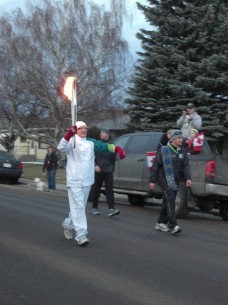 The official 2010 Winter Olympics website is fabulous. I loved using the Torch Relay Interactive Map for detailed information on where the torch was "live" and what time it was expected in certain places.
Canadian followers – Did you see the Olympic torch – when it was close to you??