I LOVE new "pretties" (aka panties)!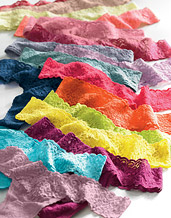 Sorry for the mental picture and to the men that may follow. Don't run – you may learn something that will benefit your partners!! I realize imagining me in lingerie is not exactly what you wanted to envision as you were eating your lunch or drinking while enjoying a read on my blog. However – this is serious talk.
Did you know that in high school I male classmate gave me the nickname of "Wedgie Picking Queen?"
I had one of the most exciting wardrobes growing up. I was spoiled rotten, having a mother that always had me in the newest western designer jeans. In the late 90's, I recall wearing the "in style" bareback (pocket-less back) and two colored jeans.
However – back to my story. My skin tight western styled jeans had 2 flaws with my underwear choice.
1) You could SEE the underwear lines!! (Horrifying!)
2) It was really uncomfortable and despite the fact that I was a cutie wearing these pants – I was coined the "Wedgie Picking Queen" because I secretly (obviously not a good hider) tried to get my "wedgie" out without my peers seeing me. Mission – unsuccessful.
I think one day I'm going to publish a book and call it – "Things I wish my Mom would have told me!"
I present a toast, to the creators of thongs! Mmm…I wonder who invented them.
Here's to cute, comfortable, colorful thongs (or panties)! Ting! (our virtual glasses touching)
I LOVE buying a new pair (or two…or whatever the sale is – 5 for….) of pretties to add to my life.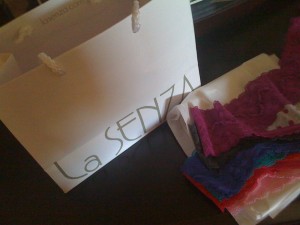 There is an awesome feeling about opening up your drawer and deciding which pair of adorable, comfortable pair you're going to wear today. Is it just me or do you color coordinate your pretties with the clothes you're wearing?
I challenge you to discard one pair of underwear from your life TODAY – you know the ones in your drawer that you never wear, for whatever reason AND replace them with a NEW amazing pair!!
If you're feeling really generous – I dare you to also pickup a pair for your best friend, sister, mother, someone special in your life that would appreciate this gesture also and deserves it!
Male readers – if you're still with me – this is the part where you come in. (Hint hint – forward the link to this blog to your partners!! Be sure to include a P.S. I prefer ___ (thongs, boy cut, full brief, etc) and am a size ___ – unmentionables tend to be a final sale) Instead of stopping to buy a bouquet of flowers spontaneously, stop at a store and buy your partner a pair of pretties!! I realize it isn't Valentines – but that's the point. "Just because" gifts are equally, if not more important – in my opinion.
Have an amazing day!
Live Inspired,
{sig}