John departed Monday for 2 weeks of work. Which means that I have 2 weeks to be the workaholic that I love to be (he he…) at night while he's away. Well 2 evenings are down and very little productive has got done. I need a kick in the butt! However, in the defense of my sanity – my body did need a little time out. A couple mindless nights isn't going to kill anyone! However – with 2 nights behind me – it's time to reignite the spark behind me.
My action step list is HUGE! I am so excited to work on projects for Arbonne, Copper West, this blog, and speaking. However for some reason I'm stuck and am really procrastinating.
Night 1– went to the Painted Cottage's (home décor store) Christmas debut and then followed up with a trip to the Michaels craft store. Got home at 7:30pm and worked on my crafts!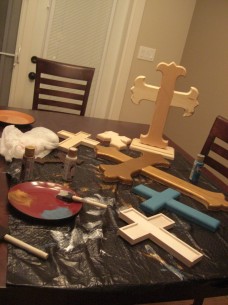 Night 2– convinced myself (not really hard unfortunately) that I needed to "run" into Costco (almost an oxymoron) and then followed that up with Wal Mart. Arrived home at 8pm.
After about that 8ish mark – my enthusiasm to attack action steps is minimal – however if I started earlier, I could work all night on them! SO – all I have to show for my first 2 evenings of mass productivity – a couple craft supplies and a few groceries!
Clearly I must be really pumped to cross items off my list. Hmm…I just realized my list isn't written down. Maybe I should work on that so I can accomplish and celebrate the milestones. I know better – I need to practice what I preach. I love the thoughts I generate while I blog AND when I write them out to share with you. As you've probably already realized – I'm crazy and quite human.
I trust that you can all relate that when we have the best intentions of getting SO much accomplished – we find and execute every excuse to avoid. However, if I needed to leave town tomorrow or someone was coming over to my house tomorrow – than I would get a MASSIVE amount completed tonight. It's all about supply and demand of time.
I need to stop piddling and conquer my goals!!
I'm going to complete 1 task for each portfolio tonight. No matter how small, I'm not allowed to do more than 1 thing until the first is complete. If you do at least something every day to move towards accomplishing your goal, you're moving in the direction of realizing it.
Thanks for letting me "vent". I really needed to be publicly accountable for my action step list.
Hope your week is kicking off with a bang.
Hugs,
Robyn