In light of my amazing sister, Rayel and nephew Sloan coming to visit me tonight for a couple days – I want to give something away!!
Just over a month ago, my sister celebrated her Birthday and she is a tough one to shop for! I like gifting experiences much more than material items. SO… a reading experience was what I decided on – whether she wanted to read or not (I'm such a nice sister – ha ha)!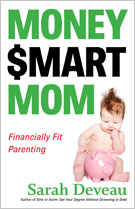 The book that came to mind instantly was a book my friend, Sarah Deveau had just published – Money $mart Mom.
My sister read the entire book in 1 day, on her way home from her Birthday trip to New York City! She loved it and has already shared it with one of our mutual friends to read. I asked Rayel to write a couple lines about the book.
"Money $mart Momis an excellent source of info on practical parenting. Tons of links to where to go to save money and take advantage of deals, grants, money saving tips and places to go. A book to fold page corners, use as a resource, and a great easy book to read at any point in your parenting adventure." – Rayel Walker
To support my friend, I also bought a copy for myself. As I've learned from Sarah and my sister, it's an awesome book to read before you're pregnant and have children also. I am about 1/2 way through it and have gained a lot of insight into what starting a family looks like financially. I expected to learn about the cost difference between using regular or cloth diapers. However, I'm half through the book and haven't even got to that topic yet!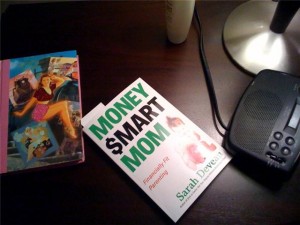 Congratulations Sarah on publishing your 2nd book; you are SUCH an inspiration to me.
I encourage all of you to check out her website www.moneysmartmom.ca for free tips, to buy the book, OR find out what stores to find her book. I found it at my local Chapters: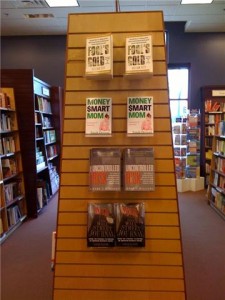 GIVEAWAY: 1 copy of Money $mart Mom
Congratulations to Larysa Robar on winning this giveaway!!
Thanks to everyone who entered – your Money $aving Tips were AMAZING!
Larysa, please go to the Contact page and submit your mailing address, so the author Sarah Deveau can send you your new book.
_____________________________
Open to Canadian residents only – as content is based on being a Canadian parent! If you're a follower from the US or an International country, you're welcome to share your tip – but the book wouldn't be very helpful to you.
To Enter, comment below with a:
Share a Money $aving tip
BONUS Entries:
Deadline: Giveaway complete!
I will randomly draw 1 winner for this draw.
I look forward to learning from your tips to save money!!
Good luck,
{sig}