I've always been a bit of a pack rat (nothing like a couple of my family members – no names mentioned), however that's changed quite a bit since I got married to my extremely organized hubby. John has a place for everything in our home and has encouraged me to get rid of what I don't use and keep everything in an orderly fashion. He is known in our family to organize our tupperware to my shoes. My friend Denise suggested I read the Clear Your Clutter with Feng Shui book and I LOVED it. I would highly recommend the easy read, it even has a few diagrams of incorporating the Feng Shui methods into organizing your life.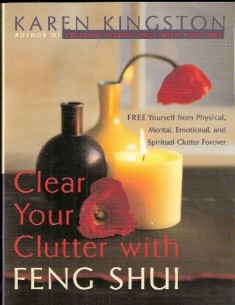 Over the past 1.5 years we've piled the clutter into our basement. Does this look familiar to a collection you may have?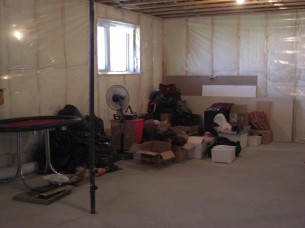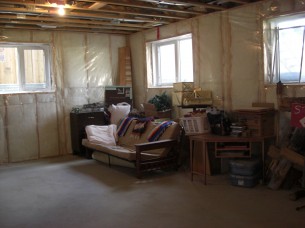 This is how John would LIKE the entire basement to look:
I talked to our neighbors and we decided to have a multi-family garage sale.
Marketing Lesson:
You can have the BEST treasures for sale, but unless people know about your garage sale happening or how to find your location, you're wasting your time and energy.
One of our experienced garage selling neighbors, Tammy put the ad in the local city newspaper. I was impressed by the graphic she added to set our advertisement apart from others and catch the attention of readers.

2160 COTTONWOOD DR
Coaldale Sat 8-2pm. Household, toys, adult/kids clothes, building supplies, bikes, car & booster seat, quilt batting, fabric, baking & lemonade stand.
We made 10 big posters to put up around town:
The arrow signs really helped find our Garage Sale, our visitors reported.
Saturday morning, 8am start. We were up early to get the final touches ready and welcome the early birds, our first guest arrived about 7:20am. An impressive sight from the street, if I must say. The more loot, the better chance the shoppers will get out of their vehicles and explore the offering.
Between the 5 families – we profited over $1000 – which I thought was wonderful. John and I had one of the smaller offerings, so we were thrilled to have a joint event and move lots of things.
At 2pm, we hauled everything that didn't sell to the Salvation Army. Apparently many people had the same idea on a Saturday afternoon, by the time we arrived donations were being loaded into the overfull truck outside the store.
Our house rule going into the weekend, was that everything that left the house, was not allowed to come back in. After our garage sale finished up, I made a couple exceptions against John's will, but so did he! Our futon didn't meet the ideal buyer, so we talked about putting it on Kijiji or on Facebook. Then John decided that it would be perfect for our deck until we got different outdoor furniture. As redneck as it was, we moved it into the shade on our deck and collapsed on it for a perfect outdoor nap.
I'm still laughing at John's comment, "We would have made a horrible mistake selling this!" What a fun weekend together and with our neighbors. I wish you the best of luck, clearing the clutter from your life.