I completed my first FREE call yesterday! I finished my 30 minute phone presentation and was vibrating!! Literally, whenever I finish speaking – I am so pumped up and emotionally excited that it takes me at least 15 minutes to unwind.
Yesterday's call opened up a brand new chapter of my career, into teleseminars. This was a huge step out of my comfort zone but isn't that the definition of courage!? I attended the SHINE Conferencelast November and learned how to leverage my time and offer new, unique products to reach YOU – my followers! As a new Mom, I'm excited to continue encouraging you to live a MORE amazing life – with events and products that I can produce and share while being home with my new son. These can compliement my live speaking engagements and coaching appointments – allowing me to reach more people.
Our new family of 3 travelled to my parents ranch Tuesday afternoon, before John flew out yesterday morning for work. I wanted to get settled in with Braxton before doing the call.
Here is a behind the scenes of where I did the call from: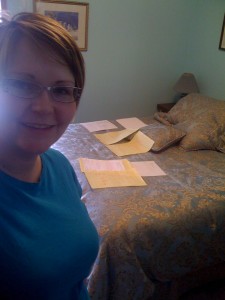 Yep – I worked from a bedroom today! This is a guest room at my parents. I spread all of my notes out on the bed, glancing at them while I walked around on the phone!
Braxton slept and hung out with his G-ma (my wonderful mother) during the call: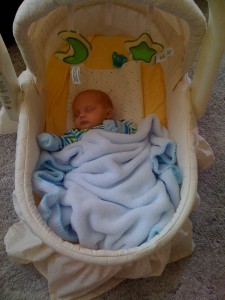 Thanks to everyone who joined me on my No More BS call – my 1st FREE Call! I look forward to offering more in the future.
Live Inspired,
{sig}