Tonight we put our heads together to make a delish supper. One day in the near future, I'm convinced that we're going to have a TV or at least an online video show called "What's in your Kitchen?" I'm always amazed at what Chef Beazley can create with the limited supplies in our kitchen. I would love to come to your house one day and witness John "chef" up an amazing meal from whatever is in your kitchen!
John wanted soup and I wanted cheese bread – so went on our own merry ways in the kitchen and created this: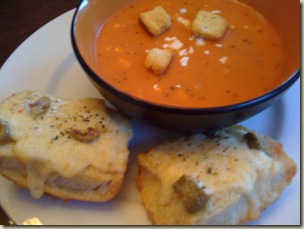 Mmmmmmmmmmmm…………………this meal was full of calories but so worth it!!
Chef Beazley made this divine Creamy Basil-Tomato Soup with a generic can of tomato soup, milk, water, flour, feta cheese (yum!), and lots of spices!
I was dying to try The Pioneer Woman's Olive Cheese Bread!! I altered the recipe a bit, I dug out some frozen buns from the freezer (John "dislikes" me freezing bread), used Jalapeño Havarti cheese and my all time favorite olives, Pilaros Green Olives stuffed with Greek Cheeses in Sunflower Oil. The best part I flash froze 4 half buns to bake for another meal (or snack!).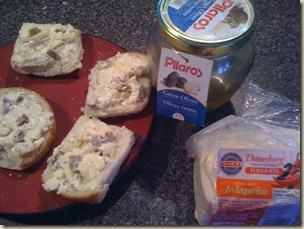 I hope you had an amazing weekend and Mother's Day (to our fantastic Mom & Grandma followers)!!
Live Inspired,
Robyn