It is 9:29pm on a Monday night! My 13 month old son went to bed an hour ago. I downed a chai tea latte that I made in the microwave, cleaned up some toys and just spent 20 minutes reading Facebook status updates!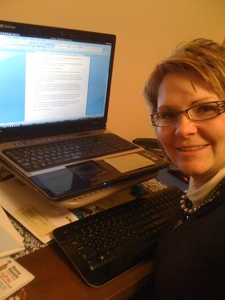 One part of me is ready to crash, the other is giddy and excited about getting some "me" time to tackle some fabulous projects in my home office!
This internal battle, I mean discussion, is something that I'm sure you can relate with.
I usually ask myself daily the question, "Would I hire or fire myself based on my income producing activities today?" Today, I would say that I would HIRE myself!
That response should be my clear answer that I've done at least 1 thing to move my business forward and as a stay at home Mom (SAHM) that should be celebrated.
I am excited, however I also know I have a million things that I could be doing.
Clearly if I knew "what" I should be doing, I would already be doing it – instead of writing this note.
Back to my question about hiring or firing myself. Lots of days I would have to say fire! I embrace those days and know that my time was clearly spent better being a Mom, wife, friend, sister, daughter, you catch my drift. It would be so easy to beat myself up about not getting this and that done. However I've chosen to flush these negative thoughts down the toilet and keep my amazing feet moving forward!
Back to my "action step" list tonight. I'm looking for something that is EXCITING to do. Not for the biggest priority because it can wait until tomorrow in my opinion. If I'm going to stay up any longer, it's going to be doing something that I'm passionate and pumped up about. Working on a deposit or paying a bill isn't getting me jazzed up right now. Some nights my mood might be different – I am spontaneous and roll with my energy!
SOOO… there it is – I'm sharing with you my intimate, unedited thoughts. As a Super Mom and Domestic Goddess in Training, passionate Mompreneur and human – I AM living an amazing life. I get the choice of how to spend my time – just like you. We all have the same 24 hours in a day and can either pursue our dreams in the nooks and crannies of our full, abundant lives OR sit on our butts and complain.
If you're having an "off" day and not getting what you think you should be doing in your home office – walk away! Turn off your computer and go be a Mom. When you're super duper motivated – you'll be more productive with your time. You'll complete the project or action step more effectively.
I truly believe that everything happens for a reason. Enjoy the moment. Dream big and break down your goal into small, attainable steps. When you have 5 minutes in your day, tackle just one of those small baby steps and celebrate that you're 1 step closer to achieving the big goal!
Congratulations on being you!
Hugs from another Mompreneur,
{sig}