Balance!? What's that?
Do we ever comment about ladies in your life, "oh, she's so balanced?" I don't! I'm not even sure I know what balance is!
You might comment about how "she has it all together". Or "how does she get it all done?" …
The answer is…I don't!
I'm a Mompreneur. My life in this current season is really wild and abundant. I love it! It means that I'm helping other women create choices for their family, make a couple extra hundred or thousand dollars a month, or even stop working a J.O.B. to be more present with their kids. All while helping my husband build his business also. And raise my 2 adorable, active boys, that are 3 & 2 (21 mo apart)!
My laundry isn't always folded…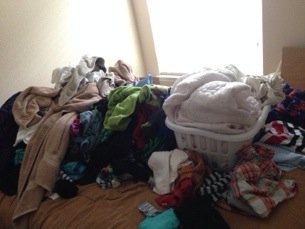 I don't match my kids socks anymore…
And my kids have a blast when I need to take a quick call…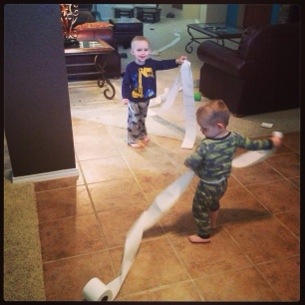 I am completely ok with all these things!
My husband is a bit OCD. He's put up with my crazy creative spirit for over 8 years! I sooo appreciate him overlooking my pathetic domestic skills. I know there are (many) days that it drives him crazy. I have catch up days and power through the required domestic chores – but when you're on a creative role, doing income producing activites in the nooks & crannies of your life, I roll with the chaos.
If you can relate to my wild life right now – high five! If you're growing a business like me, and even helping your husband build one also, like me, I'm here to tell you…
It's OK if your house isn't perfectly clean.
It's OK if the laundry isn't always perfectly folded.
Or if your kids have matching socks.
In 5 years, are you going to remember that your house was spotless?
Or remember the fun you had on vacation that YOUR business paid for?
Or create memories on the horse you bought your son?
I'm making small, short term sacrifices – so I can design a life by choice and have the time and finances to bless others and do more for the kingdom of God.
Believe me, I'm not judging if your focus is on your house and domestic chores. I just felt that someone needed to read this and know you aren't alone today!
You're an amazing woman. My daily prayer is for the strength and stamina to conquer each day, just as God ordered my steps. I don't want to miss any of his assignments to add joy to someone else's life, because I'm too busy getting my house clean to have friends over… or to pick up the phone and call someone.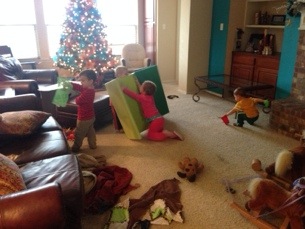 If you're a type A personality and want to fold my laundry, you're welcome to come for a folding party! I'm sure we'd have fun laughing while we did it!!
Blessings,
Robyn