I LOVE LOVE LOVE admiring Before / After Pics…
I often have lofty goals to do my own DIY projects, like the following one! I got this desk for free from a friend in January….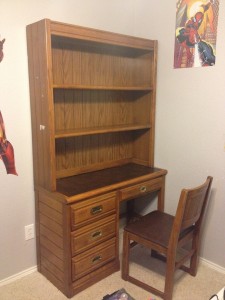 It sat in our garage collecting dust until July…
Then I pulled it into the middle of my garage and started painting it!! It sat for at least another 3 weeks – forcing to park my car outside. One of my husband's pet peeves.
Luckily my Mom was coming to visit – which gave me motivation to finish up this project!! I had planned for it to go into our Guest Room when I was finished.
I finally added the aging effect and clear coat, a few days before my Mom arrived & moved the desk into the room a couple hours before going to pick her up at the airport!
I LOVE how it turned out!
I still need to pickup some fabric to recover the chair seat, but I'm tickled by the outcome!!
I used CeCe Caldwell's Chalk Paint in Vintage White, plus their Dark Aging Wax & Clear Coat. It's the same product that I used to paint my dresser turquoise (check out before/after). It's a super easy product to use for a DIY gal in training and I love how the container goes a long way!
I pick it up at an AMAZING little store in Downtown McKinney, TX called Doozie's Corner (if you're in the area – you'll have to check out!).
What DIY project are you procrastinating on? Here's your "kick" in the butt to check out mentally & get your creative on!
As you know, I'd LOVE to see your before/after pictures!
Blessings,
Robyn