I tend to tote around a LOT of stuff – my sweet better half calls all of my prized belongings doodads and my Mom calls it loot.
I've got better about using bags to carry around everything, instead of balancing individual prized possessions in my arms. I'm well known in my family for randomly tossing multiple pairs of shoes in my car – just in case OR hauling around a pile of papers loosely OR I may even be caught throwing a bunch of things into plastic bags (I've dramatically reduced how many I use nowadays). Last year I got some fantastic tips from my followers about being "greener" after posting my entry -
Nowadays, I carry more reusable bags around. This morning I laughed out loud at what I looked like. I was carrying 4 bags to my car!
They all had very important roles in upcoming day.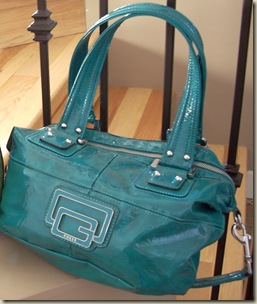 My purse – my first designer bag that my husband gave me for Valentines Day!
In January, I told my frugal hubby that I needed to get a new purse, as my current one was on its last thread. He informed me that I needed an upgrade when getting my next handbag! The exact words out of his mouth were "like Coach or something". I was SO excited to get this gorgeous new Guess handbag from John!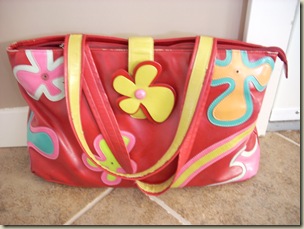 My favorite – everyday bag that carries anything and everything!!
My Tante (French for Aunt!) Louise & Uncle Marlin gave it to me when I graduated from University. It's an ESPE (espe.ca) bag and I love it. I also love their wallets and have wore through a couple of them.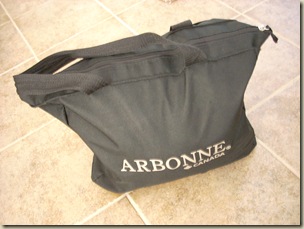 My staple – this amazing bag was our swag bag at an Arbonne conference – it is seen stuffed full (as usual).
This particular day it was carrying clothes to the seamstress (note – I'm a domestic goddess in training & delegate jobs I don't prefer), however it often carries my laptop. I've been looking for a beautiful RED laptop bag (for my 17inch laptop) for awhile…if you see one…please let me know. Thanks!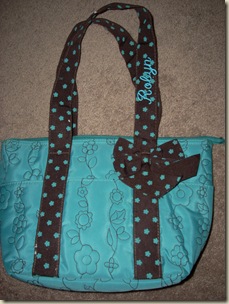 My lunch bag!
This is a BRAND new bag that I got from my Mother-in-love & Father-in-love for my Birthday. It is even personalized with my name!
It's an insulated lunch bag, that was mailed to me full of treats! Robin Eggs & cookies – so much fun.
Are you a bag lady/man? Do you have a favorite? Do you trade purses often OR use the same one for months/years? I'd love to hear about your collection.
Live Inspired,
Robyn
UPDATE – check out these Facebook commments/discussion that started as a result of my Facebook status about bags!! LOVE IT ;)