At 30 weeks pregnant, the only thing that is "slim" these days is sleep!! He he…I'm not complaining honestly, just laughing out loud.

I know that when baby #2 arrives my sleep will alter even more. The games are about to really begin!!
Interestingly enough I've been laying awake with "slimmer" images on the horizon. My goal is to run the Rock 'n' Roll 1/2 marathon in Las Vegas in December 2013. I recently added this image to my dream board!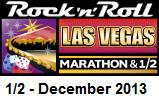 If you would have told me I'd have this goal or was running for that matter, 2 1/2 years ago – I would have laughed in your face. I recently saw a buddy's picture on Facebook wearing a Tshirt saying "Running Sucks". Before my "Injury" and desire to "Learn to Run", that would have been me!!
Now I have a big goal ahead of me and am so excited. Instead of being scared – I know that God will help me attain my goal. Stepping stones will include another couple 5K races post baby #2′s arriva,l before starting to train for a 10K and then this 1/2 marathon!!
Do you want to join me on this journey? Vegas in just over a year with a bunch of divas, to take in the 3 Cowboy Christmas trade shows alongside the NFR – OH and to run, would be a blast!!
Stay Amazing,
{sig}