Happy Tuesday!!
Oh how interesting life is…I feel like I'm not getting anything productive done these days! Have lots on the go but not doing anything really well…
However whenever I lay my head down at night – I always reflect on the amazing things that did happen! The giggles I got to witness, the discoveries my son makes, the new milestones he reaches (Braxton is close to walking!!)…those are the highlights of my day.
As a Mompreneur, I literally work in the nooks and crannies of my day! Nap times, on the floor beside Braxton with my phone or iPad, after he goes to bed in the wee hours of the night…whenever. Can you relate?
I am ready to ramp up my business and start treating it like a business though and not a hobby! I'm telling you as a form of accountability – thanks in advance for your support.
Enjoy my vlog!!
In my vlog, I talked about my NEW Spring into Action FREE video series and upcoming workshop!! More details HERE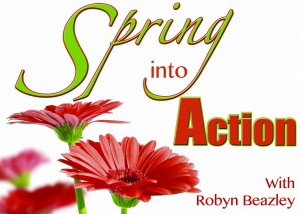 Make today amazing,
{sig}