Thanks for reading my "First 4 hours" blog post – this entry is a result of getting Tiffany & Crystal's comments – thank you for your support divas.
My favorites:
Amazing – Seal (Read my Fashion Show blog post)
All I Want To Do – Sugarland (I just want to dance around whenever I listen to!)
The Climb – Miley Cyrus (Listen to in a past blog post)
Believe – Suzie McNeil (I blogged about my experience HERE)
Simply the Best – Tina Turner (SOOO amazing!)
I Gotta Feeling – The Black Eyed Peas (LOVE this song – was moved by THIS performance from Oprah)
My Wish – Rascall Flatts (My motto for life!)
Somebody Like You – Keith Urban (My favorite love song – we danced to at our wedding – oh reminds me I owe you a new chapter of Swept off my feet by a Texan!)
If It Wasn't For Texas – George Strait (If it wasn't for Texas – I wouldn't have met my husband – George is also John's all-time favorite singer – hands down!)
Online – Brad Paisley (makes me smile & reminisce about what did we do before social media?)
Fly- Katie Rox (My friend from growing up – the good ole 4H days – I blogged about Katie HERE)
What I Like About Texas– Jerry Jeff Walker & Gary Nunn (John put on a CD he made me when we first started dating – it reminds me of our courtship & the amazing things I love about Texas)
Suddenly I See– KT Tunstall (from one of my favorite movies – The Devil Wears Prada!)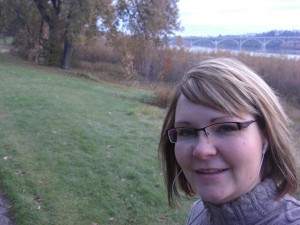 I captured this picture – while taking a gorgeous brisk walk in Saskatoon, SK in October 2009.
It was the morning after I spoke at a Conference as a Motivational Speaker.
(Thanks again to my friend Stacy Young for blessing me with the opportunity).
The rest of the songs on the list:
Who Wouldn't Want To Be Me – Keith Urban
Pocketful of Sunshine – Natasha Bedingfield
Lifestyles of the Rich – Good Charlotte
Wave on Wave – Pat Green
Free And Easy – Dierks Bentley
Ride – The Vines
Real World – Matchbox Twenty
Rockstar – Nickelback
Poker Face – Lady GaGa
Sideways – Dierks Bentley
Hot 'N Cold – Katy Perry
_______________________________________
This playlist is really random – it matches my spontaneous personality!
I'm not sure if you recall this or not – BUT I don't listen to lyrics much. I am a beat person – if the tempo of the song moves me – then I'm hooked. For all I know – a song could be crude or depressing – it usually takes me listening to it about 100 times before I figure that out.
I'd LOVE to hear what your favorite songs are – so I can add to my playlists!
Thanks to my husband for getting my iPod setup. Do you recall him spending hours preparing our iTunes database? Read the blog post – Singing Out Loud!
Live Inspired,
Robyn