I got my coupon!! Remember from my post on April Fools Day, about my Easter treat being hollow?
I received a letter from Nestle about a month ago: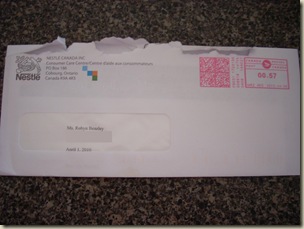 Basically this (most likely) generic letter thanked me for letting them (Nestle) know about my incident. It also informed me that they will be using my experience to research the short fall that caused the error.
Enclosed was this awesome Manufacturer's Coupon! Recall from my original post about the missing filling on, April Fools Day, I spent nothing out of my pocket (other than a 3 minute call). Then received this $3.00 coupon for FREE Nestle product(s):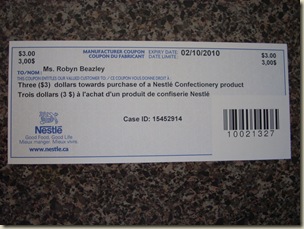 I "thought" about giving my prize away – however I decided I was going to relish in this gift for providing awesome feedback to this company! I didn't have to be a hag on the phone to the customer service representative, I was calm, cool, and collected.
 This wasn't my first gift for providing feedback. My family could tell you lots of stories about getting free toiletry products growing up. I can't remember exactly, but when growing up, I think we got a few months supply of toothpaste or something when I was a teenager! My family would say it was for complaining, I simply feel I was helping hold the companies accountable.
If you were a business owner (or maybe you are), would you like constructive criticism or experienced based feedback to improve your customer loyalty &/or bottom dollar? I DO!
I took the $3.00 and FLEW to the store…mmm…chocolate!
This is what I came out with: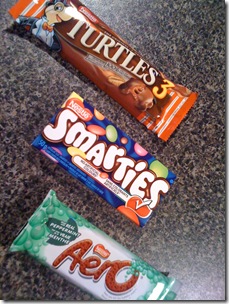 Since our followers are diverse, I thought I would explain, Nestle offers different products in Canada then in the United States.
SOOO – here is a brief explanation to our American and International friends about my chocolate choices.
When I saw the 3 pack of Turtles, I thought it was only fair that I buy them with my coupon – since it was one of their Turtle friends that caused all of this excitement in the first place!
Smarties are delicious little chocolates, similar to the shape of M & M's – but taste WAY different (well…in my opinion!) In the USA, "smarties" are more like a sweet tart, not chocolate! Interesting…
Aero is a hard to explain but the mint version is one of my favorites!
I had a blast reading my friend Deanne's post about "What foods are Canadian?" different on her blog High Country Cattle. It reminded me so much of when I moved to Kansas and then onto Texas for college and university and discovered some of my favorite foods could not be found in the USA!
Live Inspired,
Robyn