WOW – time flies by when you're having fun!! On February 13th, my Living an Amazing Life blog will celebrate its 2nd Anniversary!
Thank you VERY much for your support and loyalty to this exciting journey.
Here is my first blog entry, that originated on my first theme!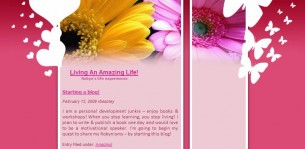 Did you (click &) read what I wrote?
I am so blessed to have accomplished ALL of my manifestations!! What an absolutely amazing feeling. Thank YOU for your support – it has helped me realize my dreams.
I want YOU to realize and experience YOUR goals. Start TODAY – write them down – share them with your network and the Universe. The world provides – when you share what you want!
Let's CELEBRATE!
I always admired Oprah's annual Favorite Things giveaway – SOOOO…I asked my friends and followers if they were interested in sharing in the Anniversary fun! They have generously donated items from their life and businesses, some absolutely AMAZING, INCREDIBLE gifts – for YOU to win!! I'm overwhelmed by the support of my friends & network, thank you.
We'll have 1 GIVEAWAY each day for 13 days starting on Tuesday, February 1st.
Why 13? Because it's my lucky number – I started my blog on February 13th and it's my favorite number for a couple other reasons, that I share in my book – Live an Amazing Life.
Stay tuned and check my blog daily to ENTER & win!!

Hope you're having an amazing weekend.

Hugs,
{sig}
P.S. I'd LOVE for you to tell your friends also – so more people can join in on the fun ;)