We are expecting our first bundle of joy at the end of March! I know that many of you have heard this news, but I was reminded today that not everyone who "follows" my blog may be my Facebook friend or Twitter buddy and read my announcement.
I have no plans to make the Living an Amazing Life blog a Mom site or play by play as a new parent. However, I will share glimpses of my journey with you – as I know that this new chapter will inspire many new blog entries and probably a new book one day!
It seems that God has a sense of humor – as we're having a BOY! He he – just joking! I envisioned having a little princess as I have the most amazing girl name picked out, however it will have to be saved for another pregnancy. We're excited to welcome a healthy baby to our life, no matter what its gender is. My husband has a permanent grin on his face – since learning that it is a boy!!
The first half of my pregnancy has been fabulous! I had the very common "less than ideal" symptoms my first trimester. I concluded that I can't complain – as many women get much sicker than me AND it is self-inflicted illness! It was a really good thing that I committed publicly to doing the 30 Day Challenge in August, because you probably wouldn't have seen any new content for about 6 weeks! Oh the excitement of being prego – thankfully my blog kept me accountable during that time.
Here is a picture of me at 20 weeks! I am SO glad that I started running before we conceive; my new healthy lifestyle has allowed me to keep feeling "hot & thin" (it's all mental!) while growing my bump.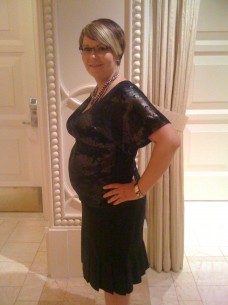 Cheers,
Robyn
P.S. I also shared a blog entry on Copper West about my baby bedding dilemma!!