done! In 6 days – a conference I've been coordinating for just over 3 months, will be complete. WOOHOO! Did you hear me scream?? If not – I'll yell it again – YAHOOO!
This journey has been interesting! Last week, I made my Facebook status read:
"Having an unbelievably productive 1st day of March! Excited for a conference I've been planning in the nooks & crannies of my day (for 3 months) to happen (& be done!!) in 12 short days. No more "side" contracts for me for awhile ;)"
In November 2009 – I saw a posting for an Events Coordinator contract – to work with a committee to put on their annual Conference. I didn't "need" anything else to do, however I love Event Planning/Coordinating – so I saw this contract – as a fix for my passion. 
I bit off WAY more than I ever imagined! My experience with the Calgary Stampede and personal endeavors, has taught me that every committee has different expectations and needs. I underestimated the amount of time this contract would require. SO – life has been a bit out of balance – specifically the past 2 months – but I've embraced the challenge and personally grown more than words can describe.
I created a website for the committee – if you want a sneak peek at the ECE Conference (www.ececonference.ca), I'm helping coordinate.
Aside from this "side" event coordinating contract – that was supposed to be a few hours a week. I finished the full time management contract I was doing – that I talked about in the post "New Contract" AND started another fantastic contract at the Lethbridge College, that goes until June 30th.
Luckily – my schedule in the evenings and weekends can be flexible – since John is gone lots and we don't have kids, that I need to spend time with.
Two months ago, I made my Facebook status read:
"excited for the new week – so many amazing things to work on! Keeping my feet moving – I don't want to be doing the same thing 5 years from now ;) Creating options and multiple streams of income with my hubby."
I had so many people ask about this status update and want to know what it "meant". Simply, it relates to our (Team Beazley's) quest to constantly be investing our time, energy, and money into various opportunities – instead of putting all of our eggs into one basket. After this conference ends, on Saturday, March 13 – I'm going to be sitting down, taking a hard look at what adventures I commit to, and reprioritizing my life!
Last Thursday afternoon, I had a meeting with my main contact for the Conference – she brought me a gift: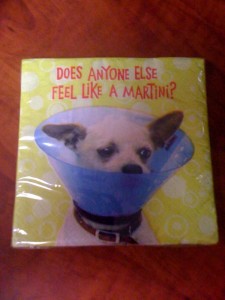 These napkins absolutely made my day. You can bet that I'll be enjoying a few of these after the Conference is done! 
Have a phenomenal week – I know I will ;)
"Refreshed & focused! SO pumped to attack this week. I can already visualize next Sunday, after helping a committee put on a fabulously successful conference."
Live Inspired,
Robyn