I am truly blessed to have an absolutely amazing husband. He's been doing more than his share of chores for our household and has knocked out my entire "honey-do" list!
My chef loves to cook and had dinner when I got home from my first day of my new contract. John used the new Tortilla Press he got as an early Birthday present from his parents.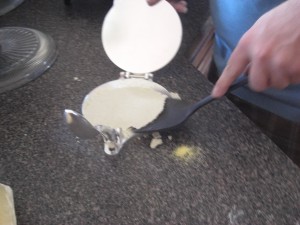 To prepare our Tex-Mex inspired dinner – Fajitas: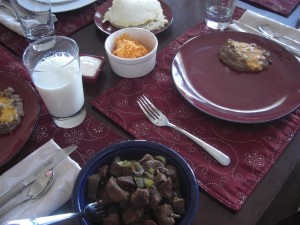 Then last night he surprised me with this gorgeous looking and out of this world tasting Strawberry Daiquiri:
After dinner our deck, I was admiring the yard and he commented that he'd picked "some" weeds! WOW – thank you.
(Warning: please ignore our dead trees! I mean our gorgeous copper colored cedars. We've learned our lesson that the beautiful $15 Canadian Tire trees that Lethbridge showcases – do not survive in our backyard.)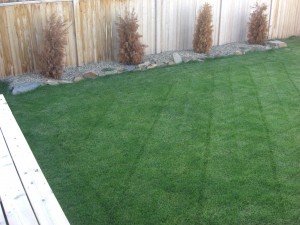 I started squinting from my seat – trying to figure out what caught my eye.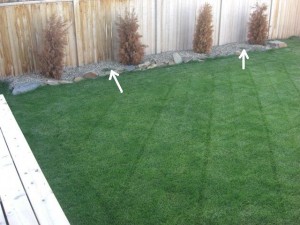 "John, what are those 2 green piles?"
"Oh, those are the weeds I picked!" he replied with a poker straight face.
"So…why are they still in the rock bed"
"I left them for you; to see all the weeds I'd pulled!!" John commented very proudly.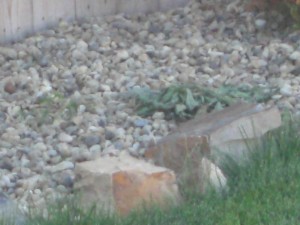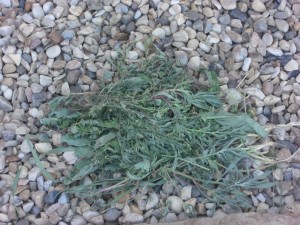 Priceless…I love it!! John, I'd like to publicly recognize your hard work. Thanks babe.
Then, I looked to the other side of the yard. I snickered back, "Did you get bored of pulling weeds after you'd done an awesome job on the first side?"
"Ya AND it was in the shade, which wouldn't help my tanning!"
I told him I'd help finish the other side (which was now in the sun), but I couldn't resist capturing this beautiful sight first.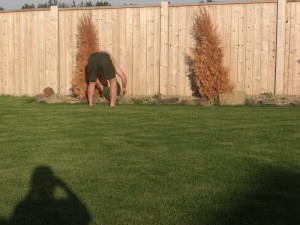 The perfect partner – someone that makes you laugh everyday! Mission accomplished.