I LOVE celebrating my birthday, especially receiving friends amazing blessings by phone, email, and social media. I'm always completely OVERWHELMED! 
I need to get better about writing to all of my Facebook friends on their special days in return. If I missed yours, I apologize, hope it was amazing - I need to "make" more time daily to see which Facebook friends are celebrating.
My friend Jeremy summed it up best -"The best day to have Facebook.. Thanks for the Birthday Wishes…"
One part of receiving the wishes, that I get a charge out of, is to see if and what adjectives my friends use. 
I love learning new things, so after seeing all of the adjectives, I asked my coworker Lawrence for a lesson on how to make graphs in Microsoft Excel. So I gathered all of the data and made this from all of the Birthday greetings I received that included adjectives, to have a visual of the breakdown.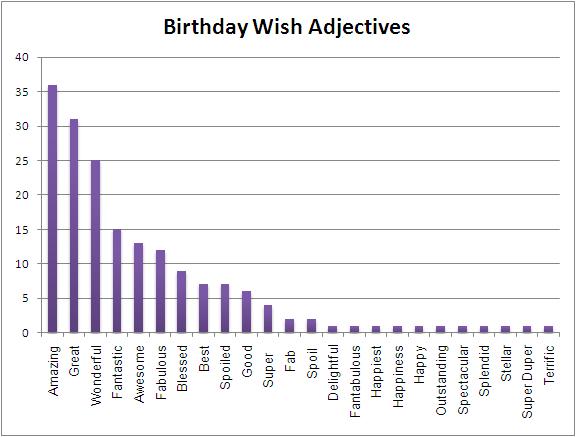 I wonder if my friends used "amazing" specifically because they were sending me Birthday wishes and they hear me use it often? AND use other words for different friends??
I vividly recall Good and Great being used the most last year – by a long shot. I'm thrilled to see the use of new colorful adjectives this year!!
What is your favorite adjective?
Happy New Week,
Robyn