Oh wow – after a completely wild and insane week back to reality, I enjoyed a relaxing weekend at home. I tried to do as little as possible! He he…I enjoyed resting and spending time with my husband.
I spent a couple hours working in my home office last night – on a few tasks that had been hanging over my head. Although – I was a bit ticked at myself for not making more effort to clean my office over the weekend. However, if it was supposed to happen – it would have – no regrets.
Then this morning, I walked into my office at the Lethbridge College – where I am finishing up a 7 month contract. The sight was a reminder of just how crazy last week was and how I literally stopped and left to escape the chaos!
Lucky me… I learned a couple moments later that TODAY is "National Clean Off Your Desk Day". Oh wow – all these new national days I'm learning about (Hope you took in Friday's – that I talked about HERE). I truly need to acknowledge this annual event and get motivated.
I'm going to let you see a behind my success picture (oh I entertain myself!) - beware it's scary and proves that I'm far from perfect!!
One of the skills that I've been constantly attempting to improve (note how I didn't say it was a "weakness" – no such thing – just a skill that isn't a strengh, I'm just developing) - is exactly this – keeping my work space clutter free and clean.
If you're a Type A personality – close your eyes – this next picture may make your stomach flip ;)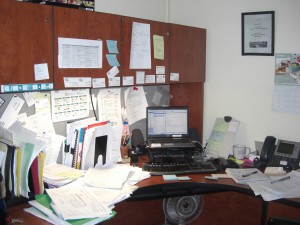 I will report back tomorrow of how I made out on my Action Step 1: Clean the top of my Lethbridge College desk by the end of the day!
The real challenge will be to attack my Action Step 2: Clean the top of my amazing home office tonight – desk and floor! It's real scary.
Happy Cleaning – gotta love Monday's,
Robyn