Hope you and your family have an amazing Christmas!!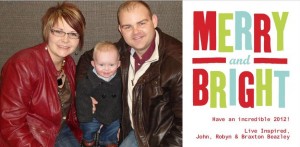 Thank you very much for your support. Look forward to connecting more in the New Year!
I was a bit later getting my annual pictures in the mail this year – however I figure, better late than never. I wish I could send one to all of you, so please enjoy this "virtual" greeting.
Stay Amazing,
The Beazleys
P.S. Don't miss my FREE video series – Amaze Yourself – going on RIGHT NOW!