I was pretty excited to make The Pioneer Woman's Strawberry Sparkle Cake, after seeing Ree make it on an episode of her Food Network show!
I chose to use an angel food box mix, (instead of making from scratch) & I was thrilled with how it turned out. However…my strawberry mixture didn't thicken. I think it was either because I used too many frozen strawberries or that they were partly thawed!? Either way, with dinner guests at our house already – I had to be creative! My girlfriend Elizabeth suggested we strain the strawberries out to fill the "trench" with and use the juice to ladle over the individual cake pieces. As I spread the whip cream out over the cake, I didn't go all the way down the side to start & my friend thought it looked cool. Almost a lace look, so I left it!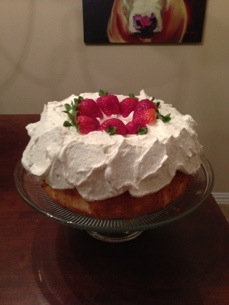 It tasted amazing!!! Yes I'm complementing my own baking. I had…2 large slices!!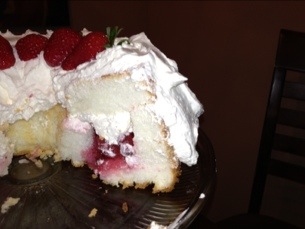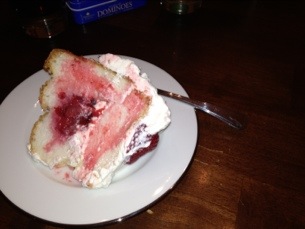 I think this cake tasted better than just serving a piece of angel food cake with strawberries & cream on top. Something about the layers of goodness and freshly made whip cream! I highly suggest this recipe and will be making again.
Domestic Goddess in Training,
{sig}