On Tuesday a long time girlfriend and I were catching up via text message. Oh technology…keeping in touch by iMessages and Facebook today, what will we be doing in another 10 years? Anyway, I'm off topic already!
My friend was telling me that she was starting a weight loss program on Thursday! I asked if she would like an accountability partner, maybe even throw a Biggest Loser component into the mix. She was game!!!
The coolest part is, that we live 2200kms/1300miles apart! Our challenge to hold each other accountable is virtual!
10 weeks ago, I looked like this: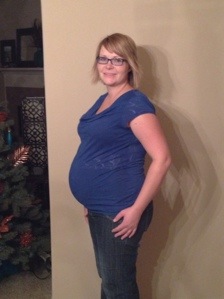 It was taken the night before I had Gradin! I've managed to quickly shed 24lbs and all of my pregnancy weight with nursing. Please don't hate me if you gained more than me – God designed us all different! But now I'd love to get my BMI to the "normal" category instead of hanging out in "overweight" mode and lose some inches. Based on the weight that I have to be to achieve this goal, I don't ever remember being in the normal range – maybe in high school!? If only I could grow taller to recalculate my BMI score!!
My accountability partner & I both weighed & measured in yesterday! I also had my hubby take a "before" picture of me. I won't scare you with the before picture until I have an "after" picture to also show you! But this selfy was part of my motivation to get back to my goals (I'll share my cobbler story in a minute)…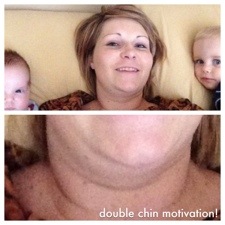 My double chin scared me!!
My big goal for 2013 is to run a 1/2 marathon. Which means I have lots of small, baby steps to achieve along the way that include – getting into shape, eating healthier and running a few 5K & 10K runs before the big one!
My amazingly supportive husband gave me this awesome book for Christmas! I was soooo excited for the cool, thoughtful gift.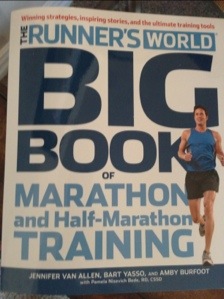 I'm also incorporating some daily products to my new regime. Luckily, I can shop from my own health & wellness store. Since I'm nursing, I don't use all of the products because I need to produce milk which requires extra calories. But "healthy & nutritious" calories is the hard part for me when I'm being Octa-Mom!!
The Arbonne Essentials line is AMAZING! I use lots of the products daily and in 2009 I used the entire program exclusively to lose 15 lbs. Here are a couple blog posts about that journey!
I'm using this time with my awesome accountability buddy to work on eating healthier and start training for my runs more consistently. My year started off a bit rocky with training since we had an unexpected ICU chapter. Did I mention that during our 16 days in the hospital, I ate "cobbler of the day" WITH ice cream everyday? Eeeeek!! I slept and stayed there around the clock and my meal as a Breastfeeding Mom was provided.
I'm excited to be back on track!
What are your fitness, personal &/or professional goals for 2013? When you step out of your comfort zone and share your goals, it is an element of accountability!
Stay Amazing,
Robyn