Hi beautiful!
I need your help please! I do not prefer shoe shopping & would like insight pulling together 2 outfits.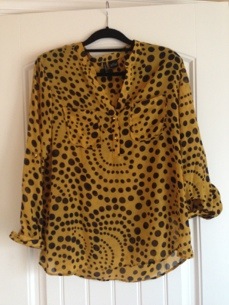 If I wanted to wear this a bit dressier (not jeans), what bottoms do you suggest? Praying you don't say tights because they scare me… What type of shoes? I'm guessing you're going to say "riding" boots, are you sure I can't wear my black cowboy boots (pictured below)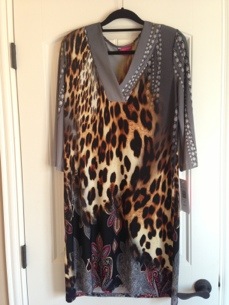 This dress is really "wild" (no pun intended) for me. I thought I'd look like a big animal in this pattern, but surprisingly it's fun & unique. Now…shoes…what style should I wear? I'd love your suggestion! Any nylons? If so, what color? Obviously spanx are a no brainer for my curves ;)
My current shoe choices (in this category – I didn't make you spot your drink out with my fancy flip flops) Hoping I can swing at least 1 outfit with something I own. However, in prepared for you to tell me I need a shoe makeover…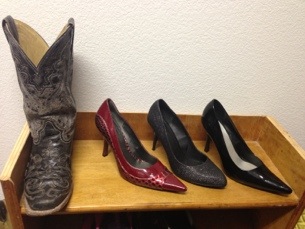 Black Corral Cowboy Boots (I love these & could wear them everyday), red pumps (most comfy & favorite high heels), black sparkly heels (I bought a year ago to go with a red sateen dress – bought them on fashion advise from salesperson), black heels (too big – maybe I could stuff them or wear something in so my foot doesn't move, bought at consignment store, not even sure why I haven't gave away or even pictured)
If I need to go out shopping…wish you lived closer to help me in person, but hopefully with awesome websites & Pinterest – you can encourage me!
Thanks in advance for your help. Clearly, I need it!!!
Hope you're having an amazing day!
Blessings,
Robyn