I want to finish what I started! A month ago, I came across the 12 Days of Christmas challenge on a website. Check out Ally's website for all the details.
Life got in the way after Day 3 was published! We sadly lost two amazing grandparents within 3 days of each other at the end of November – 3000 miles apart. One of which I included a picture of in the Day 1 post! My motivation to continue dwindled quick.
Baby Beazley woke me up early this morning and as I tossed and turned a few times, this unfinished challenge crossed my mind. This is going to be brief, but at least I will know that I completed what I started.
************************************
Day 4: Tips/Tricks to a Budget Friendly holiday season
Regift or make unique gifts. The past 2 years, my siblings and our spouses drew names and used this theme!! It's been so much fun.
Day 5: Favorite Holiday Movie/TV Show Special
National Lampoon's Christmas Vacation
Day 6: Gift ideas (what do YOU want? We all have family/friends reading our blogs…so let them know!)
Nothing! What is the world coming to – we buy what we want, when we want. Our families are really trying to remember the reason for the season and spending time together instead of unnecessary amounts of money on material gifts. However, just so you know that I'm normal – I can think of one thing that I haven't bought myself:
A camera!
Just about a year ago, I lost/left my camera on vacation. It would be lovely to have a new one before Baby Beazley arrives to capture all the fun moments. My iPhone is wonderful, but doesn't take real high quality pictures.
Day 7: Holiday Craft/DIY (If you don't make anything, what do you WISH you could make?)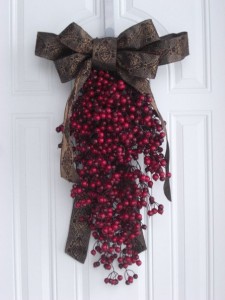 I made this berry ristra decor piece last year and love hanging on our front door.
Day 8: Least favorite thing about the Holidays
Too many amazing options and opportunities to eat! I love sweets and turkey and mashed potatoes and… Despite being pregnant, I am only eating for 1.1 – not 2!! I want to shed this lovely baby weight after it arrives ;)
Day 9: Favorite Holiday recipe
Turkey with my Mom's homemade gravy!
Day 10: Favorite Christmas Songs/Caroles
Rudolph, the Red-Nosed Reindeer (don't ask me to sing the lyrics though, recall I'm fabulous at tapping my foot but not at knowing the words!)
Side note – John's favorite is Oh Holy Night sung by John Berry!
Day 11: New Year Resolutions
Oh…I haven't thought about actually. I'm more about making a "motto" for the New Year. I talk about this concept in my December 15 ezine HERE!
Day 12: Show us your decorations (indoor/outdoor)
You'd think this would finish at Day 12 – but Aly & Molly made this challenge with 14 days!?
Day 13: Favorite Cookie Recipe
Hmmm…I love sweets. John's Ginger Cookies are AMAZING! He made lots this festive season, so as a helper (not really) I took it upon myself to eat lots. The best part is his cookies are soft and rolled in sugar, not the hard gingersnap type.
Day 14: Oprah's Favorite Things: What item(s) would you want if you were in the audience?
Oh…so many amazingly fabulous things to choose from!! One day, I will have stardom power and giveaway things like Oprah! Just wait…he he…
My top picks are the:
Le Creuset Cookware (I'm sure Chef Beazley would use more than  me – but I fell in love with these from The Pioneer Woman's kitchen)
and…
Nikon D3100 Digital SLR Camera (refer to Day 6 above!)
I look forward to hearing your answers from these questions!
Merry Christmas,
{sig}