The famous Rhubarb slush!!
______________
With summer in full swing, I wanted to share this post again – as I'm excited to welcome many new followers since I originally posted! You may also enjoy making Southwest Cups to accompany your sweet drink!
______________
I'd like to take credit for this recipe, but in 1997, a family friend shared it with my Mom!!
After some begging by a couple followers:
"Recipe for rhubarb slush please…..?" Andrea
"Rhubarb Slush??? Is that something you make yourself?"  Shandie
I'm going to give in and share my favorite summer drink recipe! Divas I hope the two of you especially LOVE this cocktail!!
Rhubarb Slush
8 c. rhubarb (cut up)
2 qts. water (8 c.)
1/2 c. lemon juice
3 c. sugar
1 pkg. strawberry jello (reg size)
2 c. vodka
Cook rhubarb until soft in 8 c. of water and 3 c. sugar mixture. Put through a seive (I use leftover pulp to make a crisp!) Add 1 pkg of strawberry jello. Stir well. Let cool. Add 2 c. vodka. Stir; put into ice cream pail. When cool, freeze. Wait 3 days. Serve by filling glass 1/2 full with slush and half Sprite, 7-Up or even Ginger Ale!
I highly suggest you dress up your drink to really Surprise & Delight!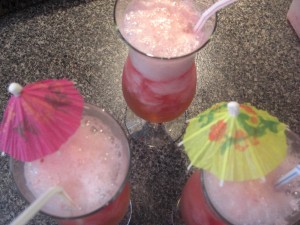 ENJOY!