Hey amazing followers!
As you probably noticed – this website has become more poppy! I decided it would be fun to participate in Coach's Poppy Project. I am pretty excited that robynbeazley.com is LISTED with a link on the Coach website!!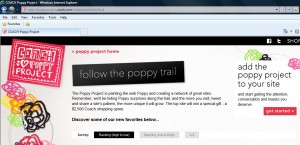 If you're a Internet nut like me, you know having your website linked to others is a huge deal. Especially one that has as much traffic and following as COACH. It has been fun to explore the other websites participating and network with new fabulous people that just happen to be Coach fans also. 
Welcome NEW visitors to the Living an Amazing Life blog.
Hope you become an instant winner! Look for Poppy surprises in the pattern. If you spot a Coach Poppy bag, it's your lucky day! Just click on the bag for a special gift.
Please help the poppy pattern grow by tweeting and spreading the excitement, to get our website to #1. I'd love to win the prize (so I could share the winnings with you!)
Make the poppy pattern bloom and grow by tweeting with either the hashtag #coachpoppy , which makes everyone's pattern grow, OR even better, tweet using the hashtag #robynbeazley to make my pattern grow individually! (Have I lost you yet?)
Here's an example tweet: "Grow, Poppy! Grow!#coachpoppy #robynbeazley http://coach.com/poppyproject"
The more you tweet with my hashtag (the words with # in front) the more my pattern grows.
Also "Like" the Poppy Project on Facebook, by clicking on the Like above the pattern on the right.
I got an email when I joined that we were ranked #189 and when I just looked to grab a couple images for this post, we had already moved up to #162. How fun!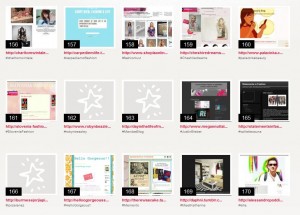 WHO loves Coach?
I need to finish my post about my first Coach purchase with my Mom a few months ago!
To sharing #CoachPoppy,
{sig}