We're back to the 13 Giveaways!!! Thanks for your patience (while I adjusted to being a "Mom" a little earlier than expected!) – I look forward to seeing all of your entries.

______________________________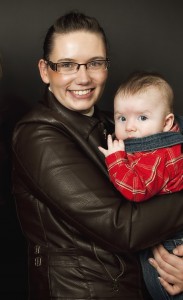 Thanks to my stampin-gly amazing friend Kim – this prize is fabulous! I met Kim virtually over a year ago. Our relationship grew as we followed each others blogs & tweets. I admire how Kim balances all of the portfolios in her life. I encourage you to follow her blog Ranch Momma, that gives you a glimpse into it. From being a Mom to her son Liam and wife to Scott, she continues to pursue her own dreams. Daily she does the farm chores, while her husband is at work, then escapes to her scrapbooking paradise during the nooks & crannies of her day. Building her Stampin' Up business is something she focuses on, as well as barrel race during the Canadian summer (warmer) months!
Thanks Kim for your wicked gift! I love how these 2 decals look on Kim's living room wall.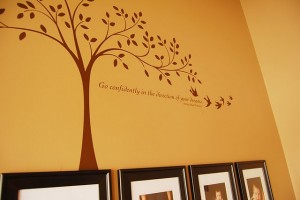 I know someone will be excited to add these to their home also! Be sure to browse Kim's online Stampin' Up catalog or even consider becoming a Independent Stampin' Up Demonstrator designer yourself & joining Kim's team.
Enter to WIN:
PRIZES:
1) Tree, Thoughts & Prayer Medium Décor Elements – 34-3/4″ x 24-3/8″
AND
2) Direction Of Your Dreams Small Chocolate Décor Elements – 22″ x 2-7/8″
Can I win?? He he – I LOVE these wall decor pieces. I'm picking out what I want to add to my own house! Thanks Kim, your prizes PLUS all of the scrapbooking products that you share are wonderful.
This giveaway is closed. 1 winner was randomly selected.
Winner: Jenn
____________________________
How / Ways To Enter:
COMMENT: You can receive one entry for commenting on this blog post.
SUBSCRIBE: You can receive one entry when you request to receive Kim's monthly "Stampin' Up" newsletter
FOLLOW: You can receive one entry when you "follow" Kim on Twitter @kimberleyek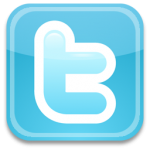 EXPLORE: You can receive one entry for commenting on a blog entry on Kim's blog Ranch Momma AND another one entry for "following" Kim's blog Ranch Momma (with Google Connect – in the right sidebar of her blog)
PROMOTE: You can receive one entry for tweeting about this giveaway AND another one entry for posting the contest on your Facebook page!
BLOG: You can receive a bonus 5 entries if you blog about this contest! You let me know which giveaway you want your special "blog" entries put towards.
____________________________
Simply leave a comment here (below) with how many entries you have!
Thanks Kim for your generous prize.
Live Inspired,
{sig}